Pentaglottis sempervirens (L.) L. H. Bailey, Man. Cult. Pl. ed. 2: 837 1949. (syn: Anchusa sempervirens L.; Anchusa vulgaris Dumort.; Buglossa sempervirens (L.) Gray; Buglossum sempervirens (L.) All.; Caryolopha sempervirens (L.) Fisch. & Trautv.; Omphalodes sempervirens (L.) D.Don);
.
SW. Europe: France, Portugal, Spain; Introduced into: Belgium, British Columbia, California, Czechoslovakia, Great Britain, Ireland, Italy, Maine, Oregon, Washington as per POWO;
.
---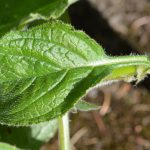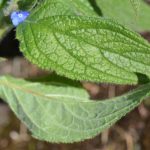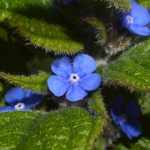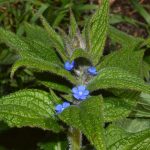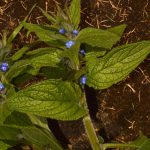 SK 3529 31 May 2022: 6 very high res. images.
Location: Kew, London, UK
Date: 04 April 2022
Habit : Wild

Pentaglottis sempervirens 
(L.) L.H.Bailey??
---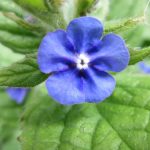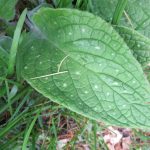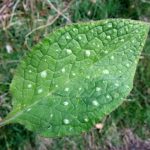 Agree Pentaglottis sempervirens… common name green alkanet.
The dots on the leaves aid id when not in flower.
Horribly invasive here.
5 images
---
---
.
References:
POWO  Catalogue of Life  The Plant List Ver.1.1  IPNI