Taeniophyllum glandulosum Blume, Bijdr. 356 1825. (syn: Sarcochilus aphyllus Makino; Taeniophyllum aphyllum Makino; Taeniophyllum chitouense S.S.Ying; Taeniophyllum khasianum J.Joseph & Yogan.; Taeniophyllum sciaphilum Schltr.; Taeniophyllum tjibodasanum J.J.Sm.; Taeniophyllum usneoides Schltr.; Taeniophyllum viride Carr);
.
Tropical & Subtropical Asia: Assam, China South-Central, China Southeast, Hainan, Japan, Jawa, Korea, Malaya, Myanmar, Nansei-shoto, Sulawesi, Sumatera, Taiwan, Thailand, Vietnam as per POWO;
.
---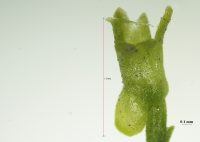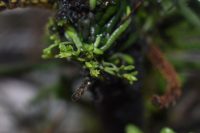 Requesting I'd of Taeniophyllum sp.: 2 images- 1 very high res. image.
Kindly assist in the Identification of tiny orchid Taeniophyllum sp . from Sikkim Himalaya. The flower is shorter than T. retrospicatum and lip differs
---
Please check Taeniophyllum retrospiculatum (King & Pantl.) King & Pantl. !
---
This looks like Taeniophyllum glandulosum to me.
---
May be new to Sikkim ??
---
Characters matches closely to T.glandulosum. It has not been reported yet from Sikkim.
---
Congratulations for a new sp. from Sikkim.
---
eFlora of China reports its distribution from Sikkim
Taeniophyllum glandulosum in Flora of China @ efloras.org
---
As per the flora of Sikkim, only Taeniophyllum retrospicatum is reported from Sikkim. Couldn't find any relevant literatures confirming the presence of T. glandulosum from Sikkim.
---
---
.
References:
POWO  Catalogue of Life  The Plant List Ver.1.1  WCSP  IPNI  GBIF (High resolution specimens) Flora of China  FOC illustration  India Biodiversity Portal  Wikimedia Commons  IOSPE Photos  orchidroots
A leafless epiphytic orchid, Taeniophyllum glandulosum Blume (Orchidaceae), is specifically associated with the Ceratobasidiaceae family of basidiomycetous fungi