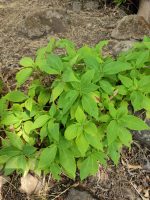 Plant for ID : Nasik : 09JUN22 : AK – 07: 1 image.
Plant seen in the Brahmagiri Mountain in Nasik district.
These were sent to me for identification.
Looks like some Impatiens Species to me.
---
Yes.
---
Oh, I was going to say they look like shoots of Strobilanthes sp.!
---
OK
---
Impatiens was just a casual suggestion from me.
You are an expert in this field.
Could be shoots of Strobilanthes Sp.
---