Leptodermis virgata Edgew. ex Hook.f., Fl. Brit. India 3: 198 (1881);
.
Himalaya to India (Punjab): East Himalaya, India, West Himalaya as per POWO;
---
Edgew. in Aitchison Cat. Punjab. Pl. 70 ; leaves very small linear or oblong acute scabrid above, stipules with long pungent recurved points, capsule cylindric.
WESTERN HIMALAYA, alt. 4-7000 ft. from Murree, Falconer to Kulu, Edgeworth. SALT RANGE, Fleming.
A slender rigid excessively branched shrub ; branches very slender, erect or divaricate, white with spreading pubescence. Leaves 1/4-1/2 by 1/12-1/8 in., fascicled, straight or somewhat falcate, margins flat or recurved, pale beneath, nerves obscure ; stipules triangular with rigid long pungent points and thickened margins, white. Bracts often equalling the capsule. Calyx glabrous, teeth lanceolate ciliate, much longer than in L. lanceolata. Corolla 1/3 in. long, pubescent, purplish. Capsule 1/8 in., subcylindric. Seed with a few free fibres attached to the integument.
(Attributions: IBIS Flora (Flora of British India))
.
---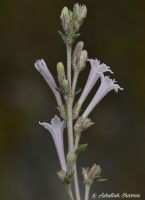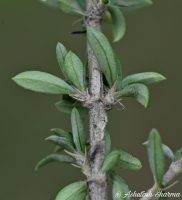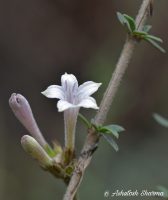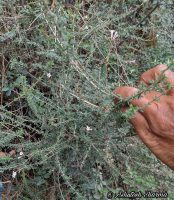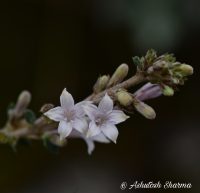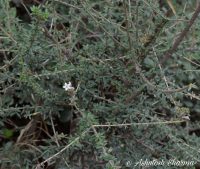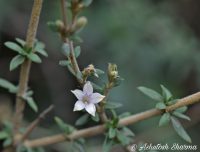 Leptodermis virgata Edgew. ex Hook.f. submission AS12 June22: 7 images- 5 high res.
Here's a new addition to efloraofindia website.
Leptodermis virgata Edgew. ex Hook.f.
Family – Rubiaceae
Photographed in Kullu district, Himachal Pradesh
In June 2022
Elevation – 1000 metres
---
Nice!
This is sixth species of Leptodermis in eFI.
60% of Indian Leptodermis diversity shown in eFI now.
Never seen in Uttarakhand. BSI checklist on net says HP is the western most limit of this species.
---
---
.
References:
POWO speciemen  Catalogue of Life  GBIF (High resolution specimens) Flora of Pakistan  IBIS Flora (Flora of British India)