Diglyphosa latifolia Blume, Bijdr. Fl. Ned. Ind.: 336 (1825) (syn: Chrysoglossum latifolium (Blume) Benth. ex Hemsl.; Chrysoglossum macrophyllum King & Pantl.; Diglyphosa macrophylla (King & Pantl.) King & Pantl.);
.
E. Himalaya to China (SE. Yunnan), Malesia to New Guinea: Borneo, China South-Central, East Himalaya, Jawa, Malaya, Maluku, New Guinea, Philippines, Sulawesi, Sumatera as per POWO;
.
---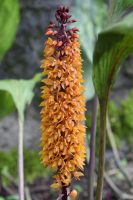 Orchid species to be confirm……: 1 very high res. images.
please confirm its identity……
1. Name:- Diglyphosa latifolia ????
2. Family;- Orchidaceae.
3. Locality:- Sachung, East Kameng dist. Arunachal Pradesh.
4. Altitude:- 1400 m asl.
7. Dated:- 15th. May 2022
---
Very interesting. I would like to see more pics of the whole plant and labellum. This labellum does not match very well with the original drawing.
---
This is very interesting.
The plants described from India by King and Pantling was Diglyphosa macrophylla (King & Pantl.) King & Pantl. and it is treated under D. latifolia. However, they don't match. But this image here matches with D. macrophylla.
Painting of King and Pantling is attached.
---
---
.
References:
POWO  Catalogue of Life  GBIF (High resolution specimens) Flora of China  FOC illustration  India Biodiversity Portal  Wikimedia Commons  Orchid Roots  orchids new guinea  IOSPE Photos