Heliconia aurantiaca Verschaff., Nursery Cat. (Ambroise Verschaffelt) 68: 1 (1861) (syn: Bihai aurantiaca (Verschaff.) Griggs; Bihai choconiana (S.Watson) Griggs; Heliconia brevispatha Hook.; Heliconia choconiana S.Watson);
.
SE. Mexico to Central America: Belize, Costa Rica, Guatemala, Honduras, Mexico Southeast, Nicaragua as per POWO;
.
---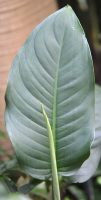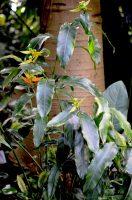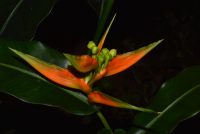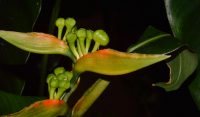 Heliconia longiflora R.R.Sm.: 4 very high res. images.
Location: Kew, London, UK
Date: 04 April 2022

Habit : Cultivated

/ Labeled 
---
I find these to be different from images at
I think it may be Heliconia aurantiaca as per images at
https://commons.wikimedia.org/wiki/Category:Heliconia_aurantiaca
https://www.gbif.org/occurrence/gallery?taxon_key=9344211
---
You may be right … ! Kew may have labeled it wrong !
---
Thank you for your email. I have checked with our experts and have been advised the following:
This plant has been fully verified as Heliconia longiflora. The two species do appear to look very similar.
I hope this helps!
---
---
/
References:
POWO  Catalogue of Life  GBIF (High resolution specimens) Wikimedia Commons