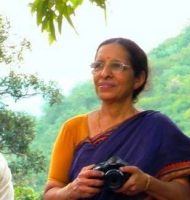 Ms. A. Lalithamba: Awarded as 1st in 'Story of eFloraofindia' Contest to celebrate 15th Anniversary:
These lines from A. Lalithamba ji, are the best we have come across to describe eFloraofIndia and it has been judged as 1st in the Contest. I am reproducing these lines again to soak in its deep inner thoughts:
.
The mighty river of EFI began like a tiny stream
In the sacred mind of ………. to realise the dream
Many great streams like ……………, ……………
Merged to add vigour and colour to the flow
Many a mighty and tiny flow began to join the row
Thus it fertilises, satiates many inquisitive minds
Without any returns; lovers of plant world find
This fertile land to explore to tour to their choice
To rejoice, gain something with or without thanks
It is like sacred monument built with the souls
Of plant lovers scientists and students from hills
Of Himalayas to coast of Indian Ocean from western
Desert region to eastern fertile region of this land
Since the flow has completed 15 years of journey
Gathered more than three thousand people
Stored more than 14000 plant species in the crest
Without any selfish monetary transactions
The most pleasant thing is the purity of thought
Nobility in actions modesty in behaviour
Made it a holy place to roam to visit to enjoy!
It is Ever Flowing Independent Indian blood for good!
.
Thanks, Lalithamba ji, for such a masterpiece.
---
Posted it at the efloraofindia Facebook page.
Pl. give it wide publicity in Social media, by posting it in your profile/ groups/ Instagram etc.
---
👏👏👏
Superb, spontaneous and beautiful words of Lalithamba ji !!
---
Beautifully narrated.
Congratulations dear Lalithamba ji,
---