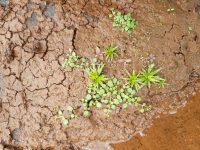 For I'd SKR: 1 very high res. image.
Can you please identify these, aquatic plants, Eriocaulon and creeping aquatic macrophyte.
Location: Lonawala, Pune
Habitat: Partially submerged in streams
Spoon shaped leaves, creeping habit, and long leaf pedicles, fine hairy leaves.
Eriocaulon with sharp leaves from same location along with same plants, no Inflorescence, any ID of genus of these Eriocaulon.
with those too?
---
Please try to send twig with flowering stage…..
---