Amomum pterocarpum Thwaites, Enum. Pl. Zeyl.: 317 (1861) (syn: Amomum microstephanum Baker; Cardamomum pterocarpum (Thwaites) Kuntze);
.
S. India, Sri Lanka as per POWO;
.
Common name: Winged-Fruit Ginger • Malayalam: Perelam
---
Stem to 2 m high, clumped, erect; rhizome to 4 cm thick, old ones blue inside. Leaves to 50 x 12 cm, elliptic-oblong, acute at either ends, glabrous, usually clustered towards the apex; petiole 3 cm long; ligule 3 mm long, whitish. Spikes 5-15 cm long, 3-4 together, bracts 6-7 x 4 cm, broadly elliptic, obtuse, pale pink. Flowers solitary in a bract; lip 4 x 3 cm, obovate, white with yellow centre. Capsule 3 cm long, glabrous; wings 3-8 mm broad, entire.
Flowering and fruiting: May-October
Semi-evergreen and moist deciduous forests
(Attributions: Dr. N Sasidharan (Dr. B P Pal Fellow), Kerala Forest Research Institute, Peechi as per India Biodiversity Portal)
.
---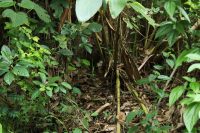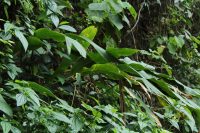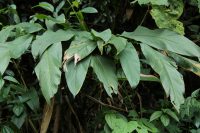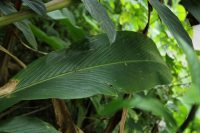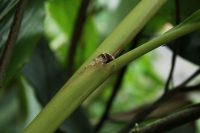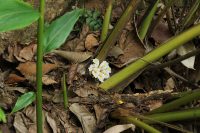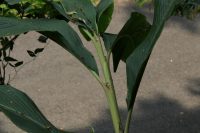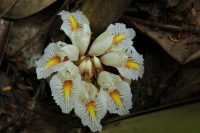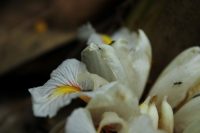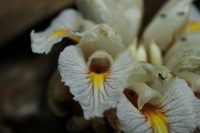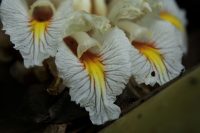 333 ID wild ginger Amomum: 12 high res. images.
Please ID wild ginger,
Location: near Vannappuram, Thodupuzha, Idukki Dist., Kerala PIN:685607
Altitude: 1500fsl
Flower date: 05.04.2022, 01.10pm
Habitat: wild, moisture, shady, roadside
Plant habit: ginger, erect, obliquely, young shoots, pseudostem 04cm base diameter, rhizomes, perennial
Height: 02.5 meters
Leaves: alternate, lengthy, acute, glossy, size up to:35×5 inches
Flower: terrestrial racemose clustered, diameter:20mm, white, fragrant
Fruit:
Seed:
Camera: CANON EOS1500D +FL10x
---
Amomum pterocarpum Thwaites !
---
Yes, it is Amomum pterocarpum, dear …, thank you very much for ID my plant,
---
Yes, it appears close to images of Amomum pterocarpum as per POWO.
---
Found these flowers on the way to Cherapunjee from Shillong. There were no leaves.
Mar-2016, located in a pot, where other garden flowers were growing. Height approx 5000′.
Identification is requested
---
This is Amomum species.
---
It is Amomum maximum
---
Can it be Amomum pterocarpum as per images in your site?
---
Yes
---
---
.
References:
POWO  Catalogue of Life  Flora of peninsular India  Flowers of India  India Biodiversity Portal  IBIS Flora (Flora of British India) Biotik  Kerala plants  Wikimedia Commons  gingersofindia