Asplenium emarginatodentatum Zenker, Linnaea 24: 263 (1851) (syn: Asplenium hindusthanense Bir; Asplenium rivulare Fraser-Jenk.; Asplenium unilaterale var. rivale Bedd.; Hymenasplenium rivulare (Fraser-Jenk.) Viane & S.Y.Dong);
.
SW. India as per POWO;
.
---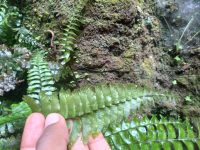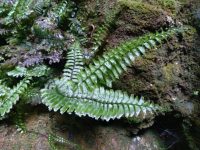 ferns: 2 images.
i found them inside a cave in Chikkamagalur district. can you please help me identify the ferns?
---
Yes, ferns again – Asplenium (Section Hymenasplenium) probably emarginatodentatum (syn.: A. rivulare, A. hindusthanense). Very diaphanous fronds and long-creeping rhizome.
---
---
.
References:
POWO  Catalogue of Life  Flora of peninsular India