Athyrium hohenackerianum (Kunze) Moore, Index Fil.: xlix (1857) (syn: Allantodia hohenackeriana Kunze; Asplenium hohenackerianum Kunze);
.
India, Sri Lanka as per POWO;
.
India (Andhra Pradesh, Chhattisgarh, Goa, Gujarat, Karnataka, Kerala, Madhya Pradesh, Maharashtra, Odisha, Rajasthan, Tamil Nadu), Sri Lanka as per CoL;
.
---
Terrestrial herb with erect rhizome, 3 x 1.5 cm. Scales 6-8 x 0.5-1 mm, dark brown, lanceolate, linear, yellowish. Fronds 12-32 x 3.5-4 cm, simply pinnate, stipe 2-12 cm long, densely scaly; lamina elliptic-lanceolate in outline; pinnae 2.5-3 x 0.7-1 cm, linear lanceolate, lobed to serrate, cuneate at base, acute to sub acuminate at apex, subcoriaceous, progressively reduced to both ends, veins forking once or twice. Sori linear 1-1.5 mm long, linear, reddish brown. Sporangial capsule 312.5 x 250 µm, subglobose, stalk 375 µm long. Spores 50 x 45 µm, yellow, planoconvex to reniform with thickly folded perine.
(Attributions: K. P. Rajesh as per India Biodiversity Portal)
.
---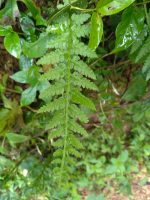 Ferns: 3 images.
found them in Mudigere talluk, Chikkamagalur distict of Karnataka, India. Is this Asplenium species? Can you please help me to identify them?
---
No, but Athyrium and Aspenium have similar sori. This is Athyrium hohenackerianum.
---
---
.
References:
POWO  Catalogue of Life  Flora of peninsular India  India Biodiversity Portal Wikimedia Commons  Research Gate  pteridoportal