Begonia cordifolia (Wight) Thwaites, Enum. Pl. Zeyl.: 129 (1859) (syn: Begonia incarnata Pav. ex A.DC.; Diploclinium cordifolium Wight);
.
S. India, Sri Lanka as per POWO;
.
---
Perennial acaulescent herbs; rhizomes subterranean, horizontal. Leaves 6-20 x 4-23 cm, ovate or rotundate, deeply cordate at base, acute to obtuse or emarginate at apex, crenate-dentate at margins, sparsely pilose and blotched above; petiole erect to ascending 5-35 cm long, pinkish. Scapes a few per axils bearing up to 10 flowers. Male flowers: tepals 4, the outer rotundate, to 15 mm wide, trunctate or cordate at base, inner oblanceolate, rounded at apex; stamens about 45, connate at base. Female flowers: tepals 5, but rarely two of them are wanting, semi-persistent in capsule, outer paid rotundate, to 17 mm wide, glabrous, inner unequal, 12 x 5 mm, obovate to oblong. Ovary 6-20 x 5-15 mm including wings; style 3, connate at base; stigma papillose. Capsule thick, whitish.
Flowering and fruiting: June-December
Evergreen forests
(Attributions: Dr. N Sasidharan (Dr. B P Pal Fellow), Kerala Forest Research Institute, Peechi as per India Biodiversity Portal)
.
---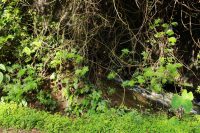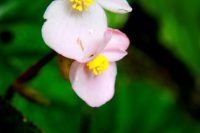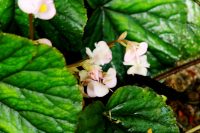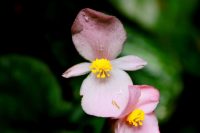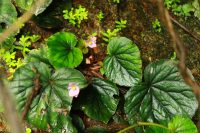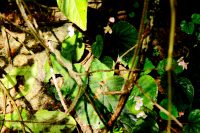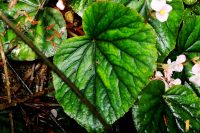 346 ID wild plant Begonia:
Please ID wild plant,
Location: near Vannappuram, Thodupuzha, Idukki Dist., Kerala PIN:685607
Altitude: 1500fsl
Flower date: 25.07.2022, 08.45am
Habitat: wild, moisture, shady watering rock
Plant habit: rosette, erect, no stem, annual
Height: 10cm
Leaves: alternate, heart shaped, apex, fleshy soft glossy, fleshy petiole, tamarind taste, size:20×13cm
Flower: erect lengthy fleshy purplish peduncle, racemose, 04 petals, size:22×15mm, pink, non fragrant
Fruit: ovoid winged, pink into brown
Seed: black numerous, micro granular
Camera: CANON EOS1500D +FL10x
---
Begonia picta Sm.!
---
Yes, it is Begonia picta, dear …, thank you very much for ID my plant
---
This has glabrous fruit and leaves, and B. picta doesn't occur as far south as Kerala. I think B. cordifolia is a better match:
Padme (Specimen)
---
---
.
References:
POWO  Catalogue of Life  Flora of peninsular India India Biodiversity Portal  Padme (Specimen)