Thrixspermum formosanum (Hayata) Schltr., Repert. Spec. Nov. Regni Veg. Beih. 4: 273 (1919) (syn: Dendrocolla pricei Rolfe; Pteroceras pricei (Rolfe) Aver.; Sarcochilus formosanus Hayata; Thrixspermum pricei (Rolfe) Schltr.; Thrixspermum sasaoi Masam.);
.
N. Vietnam, Central & S. Taiwan as per POWO;
.
---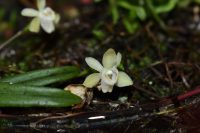 Requesting I'd confirmation of Thrixspermum formosanum (Orchidaceae): 1 very high res. image.
The flower of this specimen resambles T. formosanum. The specimen was reported as first from India by Gogoi and Yonzone (2015) and was collected from Assam. In Orchids of India (Pictorial guide) the species T. formosanum have been treated as a synonym of T. pygmeaum but on checking the status of T. formosanum it looks like a different species. Kindly help in the identification of this Thrixspermum.
---
Thrixspermum formosanum !
---
I do not understand your question.
1. What is the id of this orchid in the picture? – I need to show me a dissected flower to confirm.
2. Thrixspermum formosanum is synonym of T. pygmaeum according to the BSI's book? – I have the book right in front of me and this book doesn't claim that they are synonym, please check again
Khayanjit already wrote in his manuscript
"Note: Thrixspermum formosanum (Hayata) Schltr. is similar to Thrixspermum pygmaeum (King & Pantl.) Holt. Gogoi et al., 2012 described this species as Thrixspermum pygmaeum but differs by having abaxially purple spot-ted leaves and a white, with brownish stripes, lipped flower."
I have added Khyanjeet in the email.
---
I just want to confirm whether T.pygmeaum and T.formosanum are different species or not. In orchids of India (Pictorial guide) below Thrixspermum pygmeaum in the synonym section there is mention of T.formosanum. I don't have the book with me right now but I can show you the picture of the page on which it is mentioned on Monday. Sharing you the dissected pics of the flower shortly.
---
They are distinct species according to both POWO and COL,
T. pygmeaum distributed in  China Southeast, East Himalaya, Nansei-shoto, Nepal, Taiwan, Vietnam
T. formosanum native to  Taiwan, Vietnam
---
Orchids of Assam book has mentioned its distribution for Assam, China and Vietnam !
---
Kindly check the mention of T.formosanum below T.pygmeaum in Orchids of India Pictorial guide.
---
Yes, the name Thrixspermum formosanum is written under Thrixspermum pygmaeum in the BSI book. But no, it doesnt mean they are synonym because there is something else written in front of the text.
What it means is, "the plant mentioned by Khyanjeet Gogoi and Rajendra Yonzone in The MIOS Journal is not T. formosanum but T. pygmaeum.
"auct. non." means this name doesnt belong to the original author, that was Schlechter, who synonymised the name Sarcochilus formosanus of Hayata under Thrixspermum as Thrixspermum formosanum.
In simple words, BSI is saying Khyanjeet and Yonzone were wrong in identifying their plant.
So currently these two names, Thrixspermum formosanum and T. pygmaeum are considered distinct and both are accepted names.
---
Now I understand. Thank you sir for the clarification.
---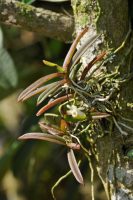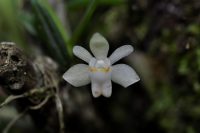 Your plant is not Thrixspermum formosanum, formosanum and pygmaeum both are different species, I do not agree with BSI. Please go through my  Thrixspermum formosanum Photograph……
2 high res. images.
---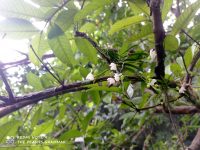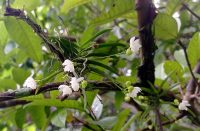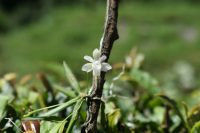 Attached more pictures of the plant with flowers. The flowers are exact similar with the plants you posted. I also have gone through your publication and the characters matches perfectly with it. Kindly have a look at it once.
2 very high res. images.
---
I checked some more references including pictures and sketches of plants from Taiwan. I also looked into Khyanjeet's article and I agree that his plant is Thrixspermum formosanum.
I dont have very high resolution images. But I do not see hairs on the outer surface of labellum in Khyanjeet's images. But I see hairs on Khanal's images.
Can you guys confirm if its true. I think at this moment Khyanjeets plant matches more with formosanum and not with pygmaeum. I have also looked into flora of Taiwan. The illustrations of pygmaeum in flora of taiwan doesnt match with either of the members. However, lets say what if the illustration of at least pygmaeum is wrong in the book!!
I have also looked into specimens from Vietnam. The plants do match well with Khyanjeet's images. And there are no hairs on outer surface of labellum.
---
In worst case plants of both look like T. formosanum actually!
---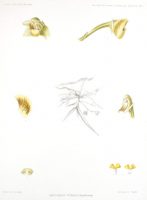 Here is the image of the original drawing attached
It obviously doesn't match with either of the images.
---
The flowers that I have come across is pubescent on the upper edge of the lip. The extent of pubescence is differing across the flowers.
---
Also see
Additions to the orchid flora of Peninsular India– Kaliamoorthy S. & T.S. Saravanan- Vol. 29(4): 319–322 (2019) (Abstract: Oberonia maxima C.S.P.Parish ex Hook.f., and Thrixspermum formosanum (Hayata) Schltr., so far known from northeast India, are reported here for the first time from Tamil Nadu, Peninsular India. Detailed descriptions and photographs are provided for easy identification.)
---
---
.
References:
POWO  Catalogue of Life  GBIF (High resolution specimens) Flora of China  Wikimedia Commons  IOSPE Photos  Research Gate
Additions to the orchid flora of Peninsular India– Kaliamoorthy S. & T.S. Saravanan- Vol. 29(4): 319–322 (2019) (Abstract: Oberonia maxima C.S.P.Parish ex Hook.f., and Thrixspermum formosanum (Hayata) Schltr., so far known from northeast India, are reported here for the first time from Tamil Nadu, Peninsular India. Detailed descriptions and photographs are provided for easy identification.)