Discospermum apiocarpum Dalzell ex Hook.f., Hooker's J. Bot. Kew Gard. Misc. 2: 257 (1850) (syn: Diplospora apiocarpa (Dalzell ex Hook.f.) Hook.f.; Tricalysia apiocarpa (Dalzell ex Hook.f.) Gamble);
.
Endemic to India: Karnataka, Kerala, Tamil Nadu as per BSI Flora of India Checklist;
.
---
Habit: Trees up to 15 m tall.
Trunk\bark: Trunk fluted; bark pale grey, prominently fissured.
Branchlets: Young branchlets quadrangular, glabrous; apical bud usually exudes yellow resin.
Leaves: Leaves simple, opposite, decussate; stipules narrow triangular to 0.7 cm long, glabrous; petiole 0.6-1.5 cm long, slightly canaliculate above, glabrous; lamina 5-10 x 1.5-3.5 cm, elliptic to elliptic-obovate, apex acuminate with blunt tip, base attenuate, margin entire, chartaceous, glabrous beneath, hairy domatia present at axils of secondary nerves; midrib raised above; secondary nerves 5-6 pairs; tertiary nerves horizontally reticulo-percurrent.
Flowers: Inflorescence small cymes; flowers polygamodioecious, sessile.
Fruit & seed: Berry, ovoid or globose; seed many, irregularly compressed, slightly rugose.
Trees in wet evergreen to dry evergreen forests between 900 and 1200 m.
Endemic to the Western Ghats- South, Central and south Maharashtra Sahyadris
(Attributions: B. R. Ramesh, N. Ayyappan, Pierre Grard, Juliana Prosperi, S. Aravajy, Jean Pierre Pascal, The Biotik Team, French Institute of Pondicherry as per India Biodiversity Portal)
.
---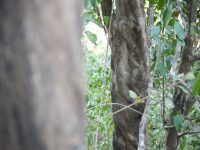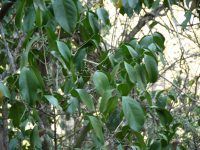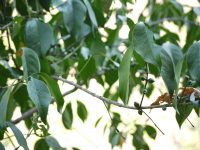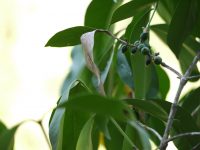 Your Discospermum apiocarpum images: 4 images.
Here attached are the requested images (Thane, Maharashtra)
---
---
.
References:
POWO  Catalogue of Life  BSI Flora of India Checklist  Flora of peninsular India Dinesh Valke's Flickr Post  India Biodiversity Portal  IBIS Flora (The Flora of the Bombay Presidency & Flora of British India)  Wikimedia Commons image