Lasianthus acuminatus Wight, Calcutta J. Nat. Hist. 6: 511 (1846) (syn: Lasianthus acuminatus Wight ex Hook.f.; Mephitidia acuminata (Wight) Walp.; Nonatelia acuminata (Wight) Kuntze);
.
S. India as per POWO;
.
Common name: Tapering-Leaf Lasianthus • Malayalam: Moottumaram, Peenari
.
---
Large shrubs. Leaves to 9 x 4 cm, elliptic, oblong, apiculate, glabrous; nerves 4 pairs, prominent; nervules closely parallel; petiole 5-7 mm long; stipule triangular, acute, glabrous. Flowers 1-3 together, sessile; calyx lobes acute, triangular, villous; corolla 8 mm long, tube slender, lobes ovate, obtuse, densely villous. Drupe 5 x 5 mm, globose, glabrous.
Flowering and fruiting: May-November
Evergreen and shola forests
Southern Western Ghats
(Attributions: Dr. N Sasidharan (Dr. B P Pal Fellow), Kerala Forest Research Institute, Peechi as per India Biodiversity Portal)
.
---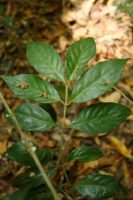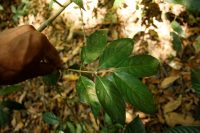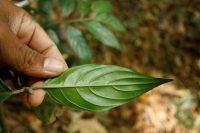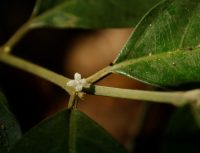 Lasianthus acuminatus images: 4 high res. images.
Here are images of Lasianthus acuminatus. Observed in Agumbe, Karnataka.
---
.
---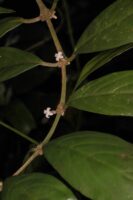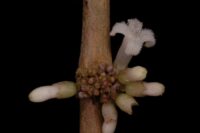 Your Lasianthus acuminatus images: 2 high res. images.
---
---
.