Astragalus stipulatus D. Don ex Sims, Bot. Mag. 50: t. 2380 (1822) (syn: Astragalus lanceolatus Buch.-Ham. ex D.Don; Astragalus stipulatus var. phulchokiensis H.Ohashi; Coronilla stipulata (D.Don ex Sims) Buch.-Ham. ex D.Don; Glycyphylla stipularis (D.Don ex Sims) Steven; Tragacantha stipulata (D.Don ex Sims) Kuntze);
.
Central & E. Himalaya to China (Yunnan): China South-Central, East Himalaya, Nepal, Tibet as per POWO;
.
---
Stems 0.6-2m. leaves 20-40cm, leaflets 31-45, oblong, obtuse at both ends, 1-4.5 x 0.5-1.5cm, ± glabrous; stipules ovate 3.5-7 x 1.5-3.5cm, sheathing stem. Flowers numerous, orange-red in racemes 15cm (elongating to 45 in fruit ), peduncles 6-8cm. Calyx 1cm, divided to middle into narrow linear-lanceolate teeth, usually brownish pubescent. petals 1.5cm, standard obovate, blade 10 x 6mm, wings linear curved 2.5-3 x 0.5-0.7cm. curved and tapering to the apex, divided longitudinally within, 6-8seeded on each side, seeds reniform 2mm, compressed, blackish.
Fl. June-August
On shingle by streams
Thimphu, Punakha, Trongsa, Mongar. 1830-2750m.
(Attributions: A.C.J Grierson & D.G Long. Flora of Bhutan. Published by RBGE. 1987 as per Bhutan Biodiversity Portal);
.
---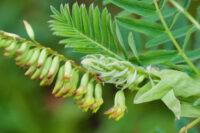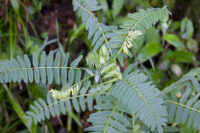 Plant ID: 3 high res. images.
This plant was at found in Godavari Nepal at 1700m in the month of August.
I am sure you and your experts can help with the ID.
---
Astragalus.
---
I think it appears close to images of Astragalus stipulatus at Bhutan Biodiversity Portal.
---
Yes, it seems to be Astragalus stipulatus. In Astragalus more than 3000 species are found. It is not always easy and correct to identify the species only with photographs.
---
---
.
References:
POWO  Catalogue of Life  GBIF (High resolution specimens) BSI Flora of India Checklist  Flora of China  FOC illustration  Annotated checklist of Flowering plants of Nepal  Bhutan Biodiversity Portal