Habenaria periyarensis Sasidh., K.P.Rajesh & Augustine, Rheedea 8: 168 (1998);
.
SW. India (Kerala) as per POWO;
.
---
Stem 10-15 cm high. Leaves to 5 x 2 cm, narrowly elliptic-lanceolate to elliptic-oblong, acute, mucronate, cuneate at base. Flowers greenish-white, in 15 cm long spike; dorsal sepal green, 10 x 6 mm, elliptic, acute, dorsally 3-ribbed, 3-5 veined; lateral sepals white, 12 x 6 mm, ovate, acute, 5-veined; petals green, 9 x 2 mm, linear-lanceolate, falcate, 2-veined; lip greenish-white, 3-partite; lateral lobes 17 x 0.9 mm, filiform, acute, recurved; midlobe 12 x 1 mm, linear, obtuse; spur white, 25 x 2 mm, cylindrical, longer than ovary; column 5 x 4 mm; anthers sac 2 x 1.5 mm, anther canal 2 mm long, straight; stigma dark green, reniform; ovary 1.5 cm long, shortly pedicellate.
Flowering and fruiting: July-August
Grasslands
(Attributions: Dr. N Sasidharan (Dr. B P Pal Fellow), Kerala Forest Research Institute, Peechi as per India Biodiversity Portal)
.
---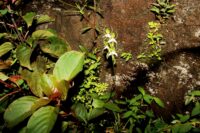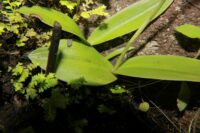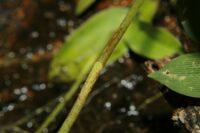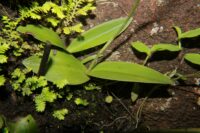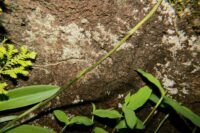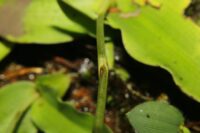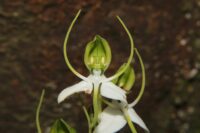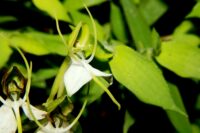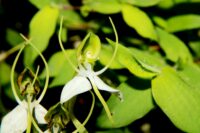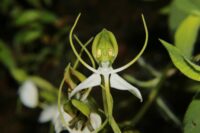 354 ID wild orchid Habenaria periyarensis: 10 high res. images.
Pleasr ID wild orchid,
Location: near Vannappuram, Thodupuzha, Idukki Dist., Kerala PIN:685607
Altitude: 1500fsl
Flower date: 13.08.2022, 02.55pm
Habitat: wild, moisture, dripping rocky hill, misty
Plant habit: terrestrial orchid, erect, annual
Height: 25cm
Leaves: alternate, ovate, oblong, apex, soft, fleshy, size up to:10×3.5cm
Flower: spiked racemose, lengthy peduncle, diameter:03cm, white and green, non fragrant
Fruit:
Seed:
Camera: CANON EOS1500D +FL10x
---
May I know if you have pdf of the original publication of this species?
---
Yes I got the article and yes this is the correct id of this species.
---
It appears in the 3rd image as if a chair has been kept for the Demon King, with a hooded canopy in a mysterious Palace, as they show in high fi hollywood movies.
---
---
.
References:
POWO  Catalogue of Life  BSI Flora of India Checklist  Flora of peninsular India  India Biodiversity Portal  IOSPE Photos