Saprosma ternata (Wall.) Hook.f., Fl. Brit. India 3: 193 (1882) (syn: Paederia ternata Wall., Serissa ternata (Wall.) Kurz);
.
SW. India, Bhutan to China (Yunnan) and Peninsula Malaysia: Andaman Is., Assam, Bangladesh, China South-Central, East Himalaya, Hainan, India, Laos, Malaya, Myanmar, Thailand, Vietnam as per POWO;
.
Common name: Three-Leaf Saprosma • Assamese: Bhedeli • Mizo: Thing-lawhleng
---
Shrubs, up to 3 m tall; bark grey; branches many, striate with vertical fissures. Leaves simple, opposite decussate; stipules ca. 0.3 x 0.1 cm, ovate, acuminate, apex pointed; petioles ca. 0.4-0.8 cm long; lamina ca. 3-12 x 0.5-4.5 cm, lanceolate to elliptic-lanceolate, rounded to acute at base, acuminate at apex, entire, pubescent along nerves; secondary nerves 4-6 pairs, slender, arcuate. Inflorescences in trichotomously or corymbosely long ca. 2-3 cm, fasciculate cymes; Flowers ca. 0.3 cm across, white; peduncles slender, pubescent; bracts orbicular, connate; pedicels ca. 0.2-0.4 cm long, slender, pubescent; bracteoles ovate, acuminate; calyx-tube obconic, truncate or obscurely toothed, ca. 0.25 x 0.2 cm; corolla-tube funnel-shaped, ca. 0.5 cm long, densely pubescent within; lobes ovate, ca. 0.2 x 0.15 cm, acuminate; filaments filiform, ca. 0.4 cm; anthers curved, ca. 1.5 cm, oblong; styles ca. 0.3 cm, flattened; stigma ca. 0.5 mm, 2-fid, linear. Fruits succulent, purplish black when ripe. Seeds 1 or 2.
Along river-bank; 1200 m.
(Attributions: French Institute of Pondicherry as per India Biodiversity Portal)
.
---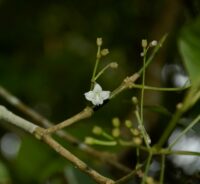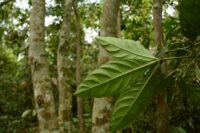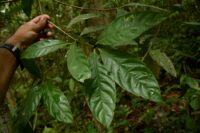 Saprosma ternatum images: 4 images.
Here are images of
Saprosma ternatum
observed
in Hollongapar Gibbon Sancturary, Assam
---
---
.
References:
POWO  Catalogue of Life  GBIF (High resolution specimens) BSI Flora of India Checklist  Flora of China  FOC illustration  Flowers of India  India Biodiversity Portal  Wikimedia Commons