Cornus mas L., Sp. Pl.: 117 (1753) (syn: Cornus erythrocarpa St.-Lag., Cornus flava Steud., Cornus homerica Bubani, Cornus mas f. conica Jovan., Cornus mas var. oblongifolia Jovan., Cornus mas f. oxycarpa Jovan., Cornus mascula L., Cornus nudiflora Dumort., Cornus praecox Stokes, Cornus vernalis Salisb., Eukrania mascula (L.) Merr., Macrocarpium mas (L.) Nakai);
.
Europe to Caucasus: Albania, Austria, Belgium, Bulgaria, Czechoslovakia, East Aegean Is., France, Germany, Hungary, Italy, Krym, Lebanon-Syria, North Caucasus, Romania, Switzerland, Transcaucasus, Turkey, Turkey-in-Europe, Ukraine, Yugoslavia; Introduced into: Denmark, Great Britain, Illinois, New York, Norway, Pennsylvania, Sweden as per POWO;
.
---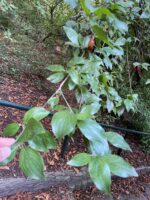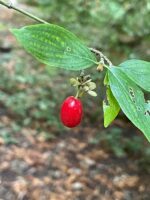 France, July 2022 :: Cornus mas :: ARK2022-095: 2 high res. images.
This was clicked in a park in Paris, France in July 2022.
An FB group suggested Cornus mas.
Requested to please validate.
---
Yes, possible as per images at POWO.
---
Cornelian cherry…… Underutilized fruit crop of temperate region. The fruit is edible and also used in jam and wine……
---
---
.
References:
POWO  Catalogue of Life