Vepris bilocularis (Wight & Arn.) Engl., H.G.A.Engler & K.A.E.Prantl, Nat. Pflanzenfam. 3(4): 178 (1896) (syn: Cranzia bilocularis (Wight & Arn.) Kuntze, Dipetalum biloculare (Wight & Arn.) Dalzell, Toddalia bilocularis Wight & Arn.);
SW. & S. India as per POWO;
.
Common name: Nilgiri White Ironwood • Malayalam: Karakil, Moothassari • Kannada: ಮಂಗಪ್ಪೆ Mangappe
.
---
Evergreen dioecious trees, to 25 m high, bark 4-6 mm thick, surface yellowish-grey, brittle; blaze dull yellow. Leaves trifoliate, alternate, estipulate; rachis 2-10 cm long, slender, swollen at base, grooved above, glabrous, lamina 7-25 x 3-10 cm, elliptic, oblong, elliptic-oblanceolate, elliptic-oblong or elliptic-obovate, base acute, cuneate or rarely oblique, apex acuminate, margin entire, revolute, glabrous, pellucid-gland dotted, coriaceous; lateral nerves parallel, close, intramarginal nerve present, slender, prominent, intercostae reticulate, prominent. Flowers unisexual, 5-6 mm across, yellow, in axillary and terminal panicles; male flowers: calyx small, saucer-shaped, 2-3 lobed; petals 2-4, free, orbicular, glandular, glabrous, imbricate; stamens 6, inserted under the disc, exserted, equal; filaments broad at base; anthers ovate; pistillodes cylindric, 2-cleft above, glabrous; female flowers: sepals and petals as in male flowers; staminodes rudimentary; ovary superior, globose, 2-4-celled, ovules 2 in each cell; stigma capitate. Fruit a berry, globose, 2-celled, fleshy, glandular; seeds 2, planoconvex, brownish.
Flowering and fruiting: February-May
Evergreen and semi-evergreen forests
Southern Western Ghats
(Attributions: Dr. N Sasidharan (Dr. B P Pal Fellow), Kerala Forest Research Institute, Peechi as per India Biodiversity Portal)
.
---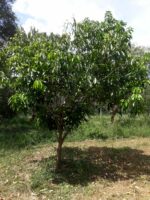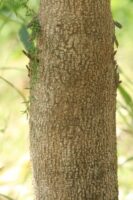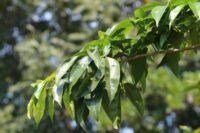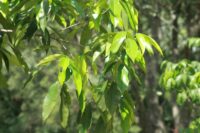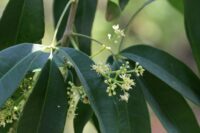 Images contributed by Dr. Sankara Rao
---
---
.
References:
POWO  Catalogue of Life  GBIF (High resolution specimens) Flora of peninsular India Flowers of India  India Biodiversity Portal  pilikula  Wikimedia Commons