Malus sikkimensis (Wenz.) Koehne, Gatt. Pomac.: 27 (1890) (syn: Malus baccata subsp. sikkimensis (Wenz.) Likhonos, Pyrus pashia var. sikkimensis Wenz., Pyrus sikkimensis (Wenz.) Hook.f., Sinomalus sikkimensis (Wenz.) Rushforth);
.
Nepal to S. Central China and Myanmar: Assam, China South-Central, East Himalaya, Myanmar, Nepal, Tibet as per POWO;
.
---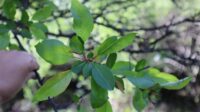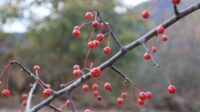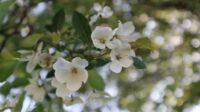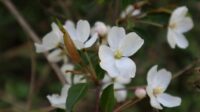 Request for Plant Identification: 4 very high res. images.
I am …, a PhD Scholar of Tezpur University. I am working on documentation of wild edible plants of Arunachal Pradesh. I have already collected and documented around 70 different plant species of Arunachal Pradesh. Therefore, I would like to request to you verify and authenticate my plant species and provide me with the ID. Thanking you.
Please find the attachment.
Plant name : Malus sp. ??
Location: West Kameng, Arunachal Pradesh
---
Seems to be Malus spp……..Crab apple. More details are required for identification
---
Prunus. Cherry !
---
I would agree with … Leaves and blossoms match with Crabapple. Fruit seems to be too glossy and shiny, but there may be some types like that.
---
Pyrus pashia…. Mehal…
---
Pyrus pashia is different as per images herein.
---
Is it wild?
---
.
References:
POWO  Catalogue of Life   GBIF (High resolution specimens) Annotated checklist of Flowering plants of Nepal  India Biodiversity Portal  Wikipedia  PFAF  Wikimedia Commons  Trees and Shrubs Online