Henckelia anachoreta (Hance) D.J.Middleton & Mich.Möller, Taxon 60: 774 (2011) (syn: Chirita anachoreta Hance, Chirita dimidiata R.Br., Chirita minutiserrulata Hayata, Didymocarpus anachoretus (Hance) H.Lév., Didymocarpus minutiserrulatus (Hayata) Yamam., Didymostigma trichanthera C.X.Ye & X.G.Shi, Roettlera anachoreta (Hance) Kuntze);
.
Arunachal Pradesh to S. China and Indo-China, Taiwan: Assam, China South-Central, China Southeast, East Himalaya, Laos, Myanmar, Taiwan, Thailand, Vietnam as per POWO;
.
Common name: Hermit Henckelia
.
---
---
Henckelia pumila !
---
Thanks, …
Hi, …,
What are the species reported in your area ?
Do you have any other images ?
---
Henckelia is new name for Chirita sp.
---
What are the members reported from Gesneriaceae.
---
Chirita hamosa, C.macrophylla, C.oblongifolia and C.pumila are recorded in Mizoram
---
Pl. post better images clearly showing the calyx.
Nearest out of the four mentioned by you, I can find is
Henckelia
grandifolia
A.Dietr. as per
GBIF
–
Specimen
and
POWO
  and
Plant illustrations
---
Sorry !! Not available sir
---
---
.
---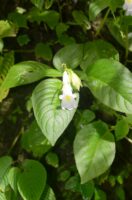 MS,Sept.,2022/02 Herb for id: 1 very high res. image.
Location : Sihphir, Mizoram
---
Pl. check
https://efloraofindia.com/2013/01/11/henckelia/
---
H.dasii ?
---
---
Yes, appears close to images at Henckelia dasii Taram, D.Borah, R.Kr.Singh & Tag
---
Henckelia anachoreta ?
---
---
I think you are right as per
POWO specimen, Research gate, GBIF, Flickr
---
Ok, thanks sir
---
---
.
References:
POWO specimen, Research gate, GBIF, Flickr  BSI Flora of India  Flora of China  FOC illustration  Flowers of India