Iochroma gesnerioides (Kunth) Miers, London J. Bot. 7: 346 (1848) (syn: Acnistus gesnerioides (Kunth) Hunz., Chaenesthes gesnerioides (Kunth) Miers, Chaenesthes umbrosa (Kunth) Miers, Diplukion umbrosum (Kunth) Raf., Dunalia gesnerioides (Kunth) Dunal, Dunalia umbrosa (Kunth) Dunal, Iochroma coccineum Scheidw., Iochroma flavum André, Iochroma gesnerioides var. flavum (André) J.M.H.Shaw, Iochroma umbrosum (Kunth) Miers, Lycium gesnerioides Kunth, Lycium umbrosum Kunth, Valteta gesneroides (Kunth) Raf.);
.
Colombia to Ecuador; Introduced: East Himalaya as per POWO;
.
Common name: Red Iochroma
.
---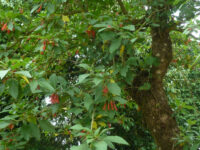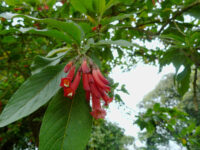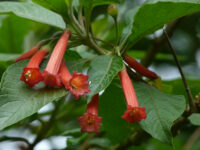 Iochroma gesnerioides: 3 images.
Iochroma gesnerioides photographed in cultivation from Darjeeling. It was a full grown tree.
---
I can see why it is called gesneroides!!
---
.
---
Iochroma fuchsioides in FOI:
As per details at Iochroma, Iochroma fuchsioides is not reported in India but a similar species i.e. Iochroma coccinea is reported.
Pl. check.
Also request you to send images for incorporation in eFI.
---
I checked with the original description, and it does agree better with Iochroma gesnerioides (Syn: Iochroma coccineum).
---
---
.
References:
POWO  Catalogue of Life  Flowers of India  India Biodiversity Portal
https://davesgarden.com/guides/pf/showimage/324996/#b
https://toptropicals.com/catalog/uid/iochroma_coccinea.htm
https://commons.wikimedia.org/wiki/Category:Iochroma_coccinea