Ipomoea rumicifolia Choisy, Mém. Soc. Phys. Genève 6: 447 (1833 publ. 1834)[Conv. Or.: 65] (syn: Convolvulus lasiospermus Vis., Ipomoea gnaphalosperma Hochst. ex Choisy);
.
Senegal, Angola, NE. Tropical Africa, India: Angola, Eritrea, Ethiopia, India, Senegal, Sudan as per POWO;
.
Common name: Dock-Leaf Morning Glory
.
---
Chois. Convolv. Or. 65, and in DC. Prodr. ix. 351 ; stems sparsely hirsute, leaves ovate-oblong cordate or subhastate sinuate irregu¬larly angular or sublobate, peduncles short laxly few-fld., sepals elliptic-lanceolate patently hirsute, corolla very small. Convolvulus lasiospermus, Vis. Pl. AEgypt. Nub. 13, t. 1, fig. 2. C. hirtus, Wall. Cat. 2254.
MTS. of the S. DECCAN ; Travancore and Nilgherries, Rottler, Wight, &c.—DISTRIB. E. Tropical Africa.
Stems annual, twining. Leaves 1-2 in., scabrous or sparsely hirsute ; petiole 1.1/2 in. Peduncles 0-1/2 in. ; bracts 1/5 in., linear, subpersistent ; pedicels 1/4-1/2 in. Sepals 1/4 in., acute, widened in fruit. Corolla 1/3-1/2 in., campanulate, white when dry, Visiani, probably yellow when fresh. Capsule 1/4 in. and upwards, ovoid, glabrous, usually 4-seeded. Seeds velvety.
(Attributions: IBIS Flora (Flora of British India))
.
---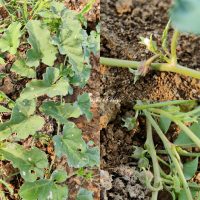 I'd plz Convolvulaceae family plant: 1 high res. image.
I'd plz Convolvulaceae family plant
Location : Rapar – Kutch, Gujarat
Dt. 09/10/2022
---
Appears an interesting plant.
---
Check with Merremia sp
---
Pl. check Merremia emarginata (Burm. f.) Hallier f.
---
May be Ipomoea rumicifolia
---
Yes, you appear to be right as per FOI, GBIF, BSI Flora of India,
---
---
.
References:
POWO  Catalogue of Life  GBIF (High resolution specimens) BSI Flora of India  Flora of peninsular India Flowers of India  India Biodiversity Portal  IBIS Flora (Flora of British India) Convolvulaceae Unlimited