---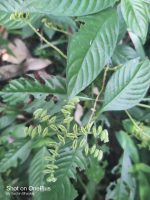 ---

Requesting a herb id 011211_2: 2 high res. images.
A herb with beautiful flowers(?)
Meenmutty water falls, Ponmudi range, Thiruvananthapuram.
---
Please check Ophiorrhiza at efi !
---
It will be difficult to say about the species without flowers.
Pl. see
https://sites.google.com/site/efloraofindia/species/m—z/r/rubiaceae/ophiorrhiza
There are numerous species listed in Flora of Peninsular India.
---