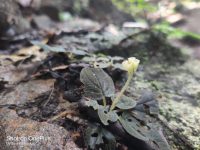 Requesting a herb id 011222_1: 1 high res. image.
A herb found on the slopes of Rocky boulders. The flowers look like cups and are cream coloured.
Brimore, Thiruvananthapuram.
---
Please check Sonnerila !
---
Yes. But difficult to say about the species with this image.
---
Yes … Only one  fruiting image !
---