Oxybasis glauca (L.) S. Fuentes, Uotila & Borsch, Willdenowia 42: 15 (2012) (syn: Chenopodium ambiguum var. majus Moq. ; Chenopodium ambiguum var. minus Moq. ; Chenopodium glaucum L.; Chenopodium glaucum var. littorale Rodway ; Chenopodium glaucum subsp. orientale Vorosch. ; Chenopodium glaucum var. prostratum Beck ; Chenopodium littorale Moq. ; Chenopodium nudiflorum F.Muell. ex Murr ; Chenopodium prostratum Jacquem. ex Moq. ; Chenopodium wolffii Simonk.);
.
Temp. Eurasia, Australia: Afghanistan, Albania, Altay, Amur, Austria, Baltic States, Belarus, Belgium, Bulgaria, Buryatiya, Central European Rus, China North-Central, China South-Central, China Southeast, Chita, Czechoslovakia, Denmark, East European Russia, France, Germany, Greece, Gulf States, Hungary, Inner Mongolia, Iran, Irkutsk, Italy, Kamchatka, Kazakhstan, Khabarovsk, Kirgizstan, Krasnoyarsk, Krym, Kuwait, Magadan, Mongolia, Nepal, Netherlands, New South Wales, North Caucasus, Northwest European R, Pakistan, Poland, Portugal, Primorye, Romania, Sakhalin, South Australia, South European Russi, Spain, Sweden, Switzerland, Tadzhikistan, Tasmania, Tibet, Transcaucasus, Turkey, Turkey-in-Europe, Turkmenistan, Tuva, Ukraine, Uzbekistan, Victoria, West Himalaya, West Siberia, Western Australia, Yakutskiya, Yugoslavia; Introduced into: Alabama, Algeria, Argentina Northeast, Argentina Northwest, Argentina South, British Columbia, California, Canary Is., Cape Provinces, Chile South, Colorado, Connecticut, Delaware, Desventurados Is., Egypt, Finland, Florida, Free State, Great Britain, Illinois, Indiana, Japan, Kentucky, Korea, Labrador, Maine, Maryland, Massachusetts, Mexico Northwest, Michigan, Minnesota, Missouri, New Brunswick, New Hampshire, New Jersey, New Mexico, New York, Newfoundland, Northern Provinces, Norway, Nova Scotia, Ogasawara-shoto, Ohio, Ontario, Oregon, Pennsylvania, Prince Edward I., Québec, Rhode I., Saudi Arabia, Taiwan, Vermont, Virginia, Washington, West Virginia, Wisconsin as per POWO;
.
---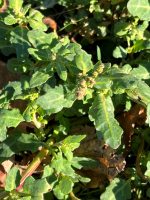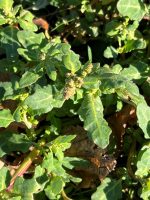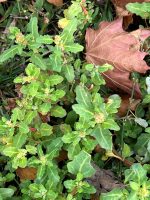 Chenopodium glaucum fromBrampton Canada-GS27112022-2: 4 very high res. images.
Chenopodium glaucum, another roadside weed in Brampton Canada.
---
Yes, appears close as per images at
https://en.wikipedia.org/wiki/Oxybasis_glauca
https://www.minnesotawildflowers.info/flower/oak-leaved-goosefoot
---
Yes, it is Oxybasis glauca (ex-Chenopodium glaucum). It looks quite unusual compared with Eurasian populations and may represent a distinct subspecies.
---
---
.
References:
POWO  Catalogue of Life  GBIF (High resolution specimens) Flora of China  FOC illustration  Flora of Pakistan  FOP illustration India Biodiversity Portal  Wikipedia