Peucedanum dhana Wall., Fl. Brit. India 2: 709 (1879) (syn: Pastinaca glauca Dalzell; Peucedanum dana Buch.-Ham.);
.
Pakistan to N. Thailand: Bangladesh, Myanmar, Nepal, Pakistan, Thailand, West Himalaya as per POWO;
.
---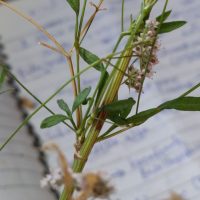 Identification request 18: 2 high res. images.
Habitat: Rocky/Aravali mountain
Umbelliferae ??
---
Yes. Pl. check comparative images
---
Maybe some Pimpinella species.
Pl. post a habit image along with lower leaves etc.
What are the species listed in your area?
It appears close to images at
https://efloraofindia.com/2011/03/21/pimpinella-tomentosa/
But I think it may not have any distribution there.
---
Sorry Sir, No more photographs available because this plant was on mining site and carrying mobile phone was not allowed there so I took a sample of it.
---
What are the species reported from your area?
---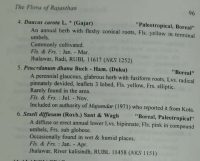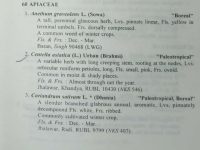 Sir, in my area there are reported only few species of  Apiaceae.
Reference Flora of Rajasthan (Hadoti division) by- Dr. Niranjan Sharma
2 images.
---
Check the possibility of Peucedanum dhana as per POWO specimen, GBIF specimen. IIM specimen and Research gate.
To me appears somewhat close.
---
---
.
References:
POWO  specimen  Catalogue of Life  GBIF specimen. IIM specimen  Research gate (High resolution specimens) BSI Flora of India Checklist  Annotated checklist of Flowering plants of Nepal  India Biodiversity Portal  IIIM (Specimen)