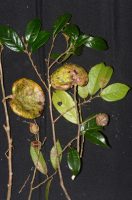 MS,Jan.,2023/05 Tree for id: 1 image.
Location ,: Hmuifang, Mizoram
Habit : Large evergreen tree
Habitat : Wild
---
Any clue?
---
Any other images?
---
The tree bears two different fruits somewhat like ear or tongue and testicle of cow. Wood red, used for building construction.
---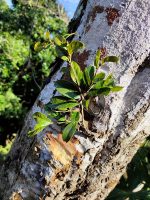 1 high res. image
---
Pl. check list of timber trees from Mizoram.
---
Looks like Annonaceae!!
---
Those enlarged irregular structures are galls made by some insects. A couple of the actual fruits (dehisced open, showing the seeds) are seen in the picture.
No clue about the id yet though.
---
The pod resembles the Monkey ear pod tree (Enterolobium cyclocarpum) pod but the leaves appear different and not compound (doubt) leaves as in E. cyclocarpum.
---
Yes, these are galls.
---
.
---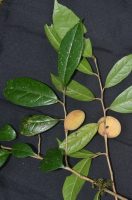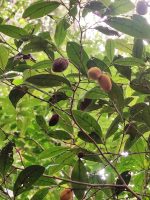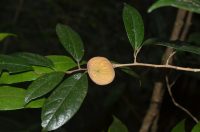 MS,April, 2023/06 Shrub for id: 4 images.
Location : Hmuifang, Mizoram
Something from Meliaceae?
---
I tried with images at
https://efloraofindia.com/2011/01/22/meliaceae/
Looked close to Aglaia, but couldn't go anywhere as per species listed in the post (MS, March, 2023/05 Tree for id)
---
https://commons.wikimedia.Hydnocarpus_pentandrus.jpg
---
Very much similar to D discolor/ blancoi
---
Does not appear like a Diospyros, due to calyx being not visible.
Sorry, I am completely clueless about this.
---
Sorry, I don't recognize this plant from the photos, and there isn't sufficient information (i.e. presence/absence of latex, fruit type, etc.) to say definitively, but this looks like a Ficus to me.
---
Check with Myristica
---
Can not say.
I think it may be images of Galls as also available in the link at MS,Jan.,2023/05 Tree for id
Pl. confirm or otherwise.
---
it is certainly a possibility
---
Too many confusion about the plant. So, it is requested to the collector please share the section of fruit.
---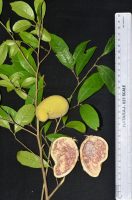 I think you can see that at
MS,Jan.,2023/05 Tree for id (attaching here also)
---
Yes … Gall.
---