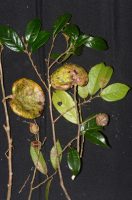 MS,Jan.,2023/05 Tree for id: 1 image.
Location ,: Hmuifang, Mizoram
Habit : Large evergreen tree
Habitat : Wild
---
Any clue?
---
Any other images?
---
The tree bears two different fruits somewhat like ear or tongue and testicle of cow. Wood red, used for building construction.
---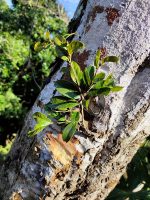 1 high res. image
---
Pl. check list of timber trees from Mizoram.
---
Looks like Annonaceae!!
---
Those enlarged irregular structures are galls made by some insects. A couple of the actual fruits (dehisced open, showing the seeds) are seen in the picture.
---