Eustigma lenticellatum C. Y. Wu, Fl. Yunnanica 1: 130 (1977) (syn: Eustigma stellatum K.M.Feng ex C.Y.Wu; Sycopsis griffithiana Oliv.);
.
Assam to China (SE. Yunnan): Assam, China South-Central as per POWO;
.
Common name: Warty Eustigma • Mizo: Pi-chili-mim
.
---
Oliv, in Trans. Linn. Soc. xxiii. 83 with a figure ; Benth. & H. f. Gen. Pl. i. 666.
KHASIA MTS. ; Griffith.
Boughs much branched with lenticular bark. Leaves 2-3 in. with stellate pubescence when young but soon glabrous ; petiole 1/4 in. long. Spikes less than 1 in. stellately pubescent (and with sheathing bracts Benth. & H. f.). Young fruits 1/8 in. diam., white-tomentose with close matted stellate hairs. Anthers dehiscent longitudinally.—Specimens imperfect.
(Attributions: IBIS Flora (Flora of British India))
.
---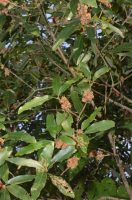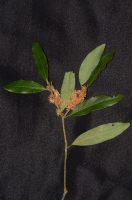 MS,Jan.,2023/13 Tree for id.: 2 images.
Location : Reiek, Mizoram
Myrsine? Floral images not clear !
---
Something close to Myrsine seguinii H.Lév. ??
---
Pl. post high res. images
---
---
Myrsyne capitellata ?
---
I think looks different as per images at
https://www.flickr.com/photos/89906643@N06/41514268472
https://www.flickr.com/photos/89906643@N06/40662486665
---
Alos does not seem to match as per images at
https://efloraofindia.com/2012/04/24/myrsine/
---
My guess would be some Hamamalidaceae? Something near Sycopsis ??
---
It appears close to Sycopsis griffithiana (only species reported from India) as per GBIF specimen, Wikimedia Commons (Sycopsis sinensis), POWO, BSI Flora of India.
Pl. confirm or otherwise.
---
---
.
References:
POWO  Catalogue of Life  GBIF  specimen  BSI Flora of India (High resolution specimens) Flowers of India  India Biodiversity Portal  IBIS Flora (Flora of British India)