Eleutherococcus leucorrhizus var. fulvescens (Harms & Rehder) Nakai, Fl. Sylv. Kor. 16: 27 (1927) (syn: Acanthopanax leucorrhizus var. fulvescens Harms & Rehder ; Acanthopanax longipes Hand.-Mazz. );
.
S. China: China South-Central, China Southeast as per POWO;
.
Distribution in BSI flora of India;
.
---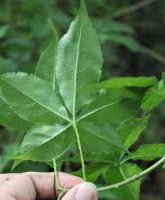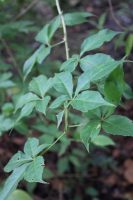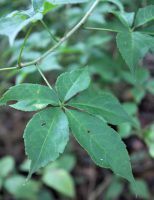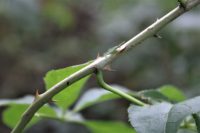 Unknown Climber from Manipur: 4 images.
kindly suggest the species of this scandent shrub/climber (stem is covered with recurved prickles).
September, 2021
---
Check in Vitaceae.
---
Rubus?? What are the Vitaceae species having spines on stem ??
---
I do not think it appears like a rubus?
---
It reminds me of Toddalia except here there are 5 leaflets.
---
Yes, Toddalia was also observed in the area.
---
Keys do not agree for that.
---
OK
---
Please check this link: https://indiabiodiversity.org/observation/16487108.  I am not sure Only a suggestion.
---
It is not. It has got no spines.
---
No, it is different from the given link.
---
---
.
References:
POWO  Catalogue of Life  Flora of China  FoC illustration  BSI flora of India  GBIF specimens (one and two)