Ponthieva racemosa (Walter) C.Mohr, Contr. U.S. Natl. Herb. 6: 460 (1901) (syn: Arethusa racemosa Walter; Cranichis multiflora Elliott ex Nutt. ; Epipactis pubescens Pursh ; Listera pubescens (Pursh) Elliott ; Neottia pubera Steud.; Ophrys pubera Michx. ; Ponthieva costaricensis Schltr. ; Ponthieva glandulosa var. macra Rchb.f. ; Ponthieva guatemalensis Rchb.f. ; Ponthieva lancifolia A.Rich. ; Ponthieva oblongifolia A.Rich. & Galeotti ; Serapias pubescens (Pursh) Steud.);
.
SE. U.S.A. to Mexico and Tropical America: Alabama, Bolivia, Brazil North, Colombia, Costa Rica, Cuba, Dominican Republic, Ecuador, El Salvador, Florida, Georgia, Guatemala, Haiti, Honduras, Jamaica, Leeward Is., Louisiana, Mexico Central, Mexico Gulf, Mexico Northeast, Mexico Northwest, Mexico Southeast, Mexico Southwest, Mississippi, Nicaragua, North Carolina, Panamá, Peru, Puerto Rico, South Carolina, Tennessee, Texas, Trinidad-Tobago, Venezuela, Virginia, Windward Is. as per POWO;
.
---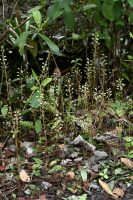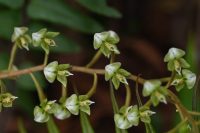 Orchidaceae: Ponthieva racemosa from Florida: 3 images.
Ponthieva racemosa (Walter) C.Mohr
A beautiful orchid while walking for 8 hours continuously in knee deep water.
I can't imagine why they call it "hairy shadow witch" 🤔
---
---
.
References:
POWO  Catalogue of Life  Flora of North America  Wikipedia  Wikimedia Commons