Aulax umbellata (Thunb.) R. Br., Trans. Linn. Soc. London 10: 50 (1810) (syn: Aulax cneorifolia Knight ; Protea aulacea Thunb. ; Protea cneorifolia Salisb. ; Protea lanceolata DC. ex Meisn.; Protea umbellata Thunb.);
.
SW. Cape Prov. as per POWO;
.
---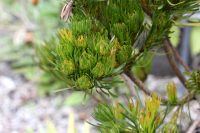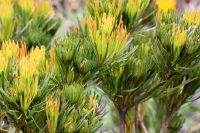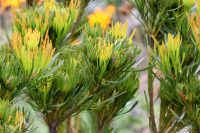 Aulax umbellata from San Francisco Botanical Garden-GS04022023-1: 3 high res. images.
Aulax umbellata (Thunb.) DC, Broad-Leaf Featherbush a member of Proteaceae, native of Africa, grown in San Francisco Botanical Garden, California, Clicked on June 2, 2019.
---
Yes, as per images at
---
---
.
References:
POWO  Catalogue of Life  Sanbi  Wikipedia