Arthraxon prionodes (Steud.) Dandy, Fl. Pl. Sudan 3: 399 (1956) (syn: Andropogon prionodes Steud. ; Andropogon serrulatus A.Rich. ; Arthraxon lanceolatus var. glabratus S.L.Chen & Y.X.Jin ; Arthraxon lanceolatus subvar. serrulatus Hack. ; Arthraxon lanceolatus var. serrulatus (Hack.) T.Durand & Schinz ; Arthraxon pilophorus B.S.Sun ; Arthraxon serrulatus Hochst. ; Batratherum serrulatum Steud.);
.
NE. & E. Tropical Africa, Arabian Peninsula, Afghanistan to China and Peninsula Malaysia: Afghanistan, China North-Central, China South-Central, China Southeast, Djibouti, East Himalaya, Eritrea, Ethiopia, India, Kenya, Malaya, Myanmar, Nepal, Oman, Pakistan, Saudi Arabia, Somalia, Sudan, Tanzania, Thailand, Tibet, Uganda, Vietnam, West Himalaya, Yemen as per POWO;
.
---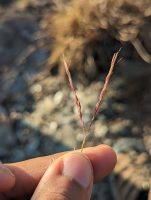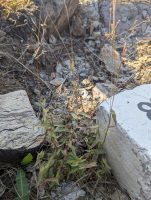 Plant ID SD0152: 2 high res. images.
Kindly assist with Identifying this grass. Clicked in Neemrana (Rajasthan) on a rocky Aravalli hill, on 3rd Feb
---
Arthraxon sp.
---
Arthraxon prionodes
---
---
.
References:
POWO  Catalogue of Life  GBIF (High resolution specimens) Flora of China  Flora of Pakistan  Annotated checklist of Flowering plants of Nepal  Flora of peninsular India India Biodiversity Portal