Nelumbo lutea (Willd.) Pers., Syn. Pl. 2: 92 (1806) (syn: Cyamus flavicomus Salisb. ; Cyamus luteus (Willd.) Nutt.; Cyamus mysticus Salisb. ; Cyamus nelumbo Sm. ; Cyamus pentapetalus (Walter) Pursh ; Cyamus reniformis Pursh ; Nelumbium codophyllum Raf. ; Nelumbium jamaicense DC. ; Nelumbium luteum Willd.; Nelumbium pentapetalum (Walter) Willd. ; Nelumbium reniforme Willd. ; Nelumbo nucifera subsp. lutea (Willd.) Borsch & Barthlott; Nelumbo nucifera var. lutea (Willd.) Kuntze ; Nelumbo pentapetala (Walter) Fernald ; Nymphaea pentapetala Walter);
.
SE. Canada to Mexico, Greater Antilles, Colombia: Alabama, Arkansas, Colombia, Connecticut, Cuba, Delaware, District of Columbia, Dominican Republic, Florida, Georgia, Haiti, Illinois, Indiana, Iowa, Jamaica, Kansas, Kentucky, Louisiana, Maine, Maryland, Massachusetts, Mexico Gulf, Mexico Northeast, Mexico Southeast, Mexico Southwest, Michigan, Minnesota, Mississippi, Missouri, Nebraska, New Jersey, New York, North Carolina, Ohio, Oklahoma, Ontario, Pennsylvania, Rhode I., South Carolina, Tennessee, Texas, Virginia, West Virginia, Wisconsin as per POWO;
.
---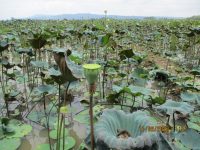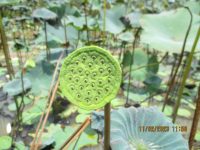 Lotus of Java: 2 high res. images.
I would like to know the name of the following plant.
Is it Nelumbo lutea?
Location Cilacap Central Java.  
---
Why not
https://efloraofindia.com/2011/03/16/nelumbo-nucifera/?
---
Looks closer to Nelumbo lutea?
---
On what basis?
---
Fruit receptacle.
---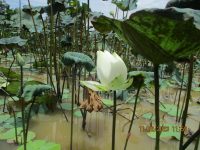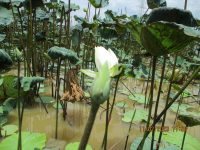 I will add more pictures.
2 high res. images.
---
Yes, it is Nelumbo lutea going by these images as per
https://plants.ces.ncsu.edu/plants/nelumbo-lutea/
https://gobotany.nativeplanttrust.org/species/nelumbo/lutea/
https://www.inaturalist.org/taxa/84160-Nelumbo-lutea
https://en.wikipedia.org/wiki/Nelumbo_lutea
---
---
.
References:
POWO  Catalogue of Life  Wikipedia  NCSU  Go Botany  Missouri botanical garden  iNaturalist