Phalaenopsis yingjiangensis (Z.H.Tsi) Kocyan & Schuit., Phytotaxa 161: 67 (2014) (syn: Ornithochilus yingjiangensis Z.H.Tsi);
.
China (SW. Yunnan) as per POWO;
.
---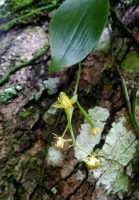 MS, Feb.,2023/ Orchid for id.: 1 high res. image.
Location : Murlen, Mizoram
Photo : Sāwma
---
Image quality is very poor !
---
Interesting, this reminds me of Phalaenopsis difformis but cant confirm with proper flower pic. But I know this is not difformis.
---
This is very interesting.
I think this is Ornithochilus yingjiangensis and now called Phalaenopsis yingjiangensis.
Could be a new record for India, at least for Mizoram.
I still need good images of the flowers.
These flowers are wilted as they are bearing fruits.
---
---
I will stick to my earlier id.
---
---
.
References:
POWO  Catalogue of Life  Wikipedia IOSPE Photos  Phals
ADDITION OF BULLEYIA YUNNANENSIS SCHLTR., PHALAENOPSIS YINGJIANGENSIS (Z.H.TSI) KOCYAN & SCHUIT. AND PHOLIDOTA PYGMAEA H.J. CHOWDHERY & G.D. PAL IN THE ORCHID FLORA OF NAGALAND, INDIA– January 2016 International Journal of Plant Sciences 5(3):63-65- Chitta Ranjan Deb, N. S. Jamir, Santanu Dey and Temjennokcha B. Longchar