Cheirostylis griffithii Lindl., J. Proc. Linn. Soc., Bot. 1: 188 (1857) (syn: Cheirostylis macrantha Schltr.);
.
Himalaya to China (C. Yunnan) and Indo-China: Assam, Bangladesh, China South-Central, East Himalaya, Laos, Myanmar, Nepal, Thailand, West Himalaya as per POWO;
.
Common name: Griffith's Velvet Orchid
.
---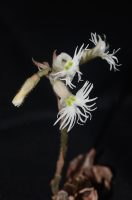 MS, Feb.,2023/10 Orchidaceae for id.: 1 image.
Location : Hmuifang, Mizoram
No leaves ?
---
Cheirostylis griffithii Lindl.
---
Or rather a Cheirostylis species
---
Yes, appears close to images of Cheirostylis griffithii (as identified by …):
https://www.orchidroots.com/detail/38757/species/?newgen=177297&tab=sum
http://www.orchidspecies.com/cheirgriffithii.htm
https://www.flickr.com/photos/105015136@N07/49540306443/
---
Yes this should be Cheirostylis griffithii.
Beautiful flowers of one of my favourite genus!!
---
---
.
References:
POWO  Catalogue of Life  GBIF (High resolution specimens) Flora of China  Annotated checklist of Flowering plants of Nepal  Flowers of India  India Biodiversity Portal  Plant illustrations  IOSPE photos  Orchid roots