Clausena austroindica B. C. Stone & K. N. Nair, Nordic J. Bot. 14: 491 (1994);
.
S. India as per POWO;
.
---
Shrubs or small trees; branchlets cylindric, minutely puberulous or glabrous. Leaves alternate, up to 40 cm long with marginate or narrowly winged, puberulent or glabrous; leaflets 5 to 9, subopposite to alternate, 5.5-16 x 2.5-6 cm; lateral ones slightly assymetric, lanceolate to obovate, attenuate to cuneate at base, acuminate, obtuse or rounded at apex, crenate or undulate, glands beneath usually convex; lateral nerves 6-12 pairs; tertiaries finely reticulate. Inflorescence terminal and from uppermost leaf axils, narrowly paniculate, up to 20 cm long; bracteoles 2, oblong-lanceolate, unequal, ca 1 mm long, ciliate. Flowers subglobose; pedicels 2-5 mm long, glabrescent. Calyx 5-(4)-lobed, glabrous; lobes rounded, deltate, 0.5 mm long, with a conspicuous terminal pellucid gland, margins minutely ciliolate. Petals 5 (4), imbricate, elliptic, obtuse, 3-5 x 1.5-3 mm with obscure glands, white. Stamens 10, five longer, alternating with five shorter; filaments slightly thickened in middle; upper part subulate and the lower dilated; anthers oblong or rhomboid, cordate, ca 1.5 mm long, sometimes with a terminal gland on connective. Ovary seated on a small but distinct gynophore, subglobose, ca 1 x 1.5 mm, distinctly papillate-glandular, usually also slightly puberulent, 5-locular, (rarely 4-louclar), each with 2 collateral ovules; style short, caducous, shorter than ovary, glabrous, tipped by a truncate stigma manifestly wider than the style. Berries globose, oblate, usually about 8 x 12 mm broader than long, greenish, glandular.
Flowering and fruiting: January-April
Evergreen and semi-evergreen forests
Southern Western Ghats
(Attributions: Dr. N Sasidharan (Dr. B P Pal Fellow), Kerala Forest Research Institute, Peechi as per India Biodiversity Portal)
.
---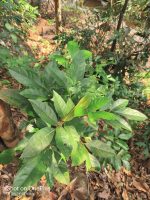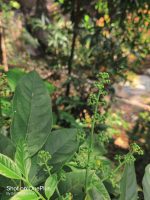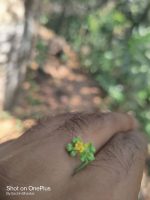 Requesting a shrub id_03032023_2: 2: 3 high res. images.
Posting again as clubbed with another post due to same subject:
Shrub with leaves: simple, petiolate and acute. 
Flowers borne in axillary clusters, white and dense. 
Kanithadam,
southern Western ghats
---
For me it's Clausena excavata Burm.f.
---
Clausena austro indica
---
wild guess
Clausena austroindica
---
Yes, appears close to images at
https://commons.wikimedia.org/wiki/Category:Clausena_austroindica
---
---
.
References:
POWO  Catalogue of Life  BSI Flora of India  Flora of peninsular India  India Biodiversity Portal  Biotik  Wikimedia Commons