Euryops virgineus (L. fil.) Less., Prodr. 6: 445 (1838) (syn: Euryops flabelliformis Cass. ; Jacobaeastrum virgineum (L.f.) Kuntze; Othonna flabellifolia G.Lodd. ; Othonna virginea L.f. );
.
Cape Prov. to Lesotho as per POWO;
.
---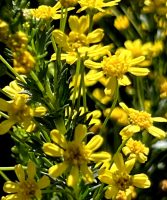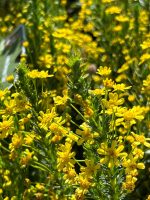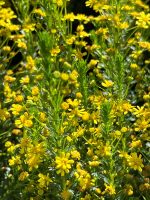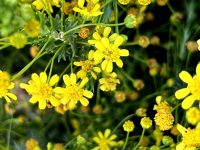 Euryops virgineus (L.f.) DC. 'Tali' from California-GS17042023-1: 5 high res. images.
Euryops virgineus (L.f.) DC., is another shrubby species (we already have E. chrysanthemoides and E. pectinatus with larger heads) with smaller leaves and flower-heads barely 8-10 mm in diameter, and endemic to S. Africa.
Plant used in Cultivation is cultivar 'Tali' with slightly ruffled leaves and attractive flower heads. Photographed from Fremont, California.
---
Yes, appears close as per images at
https://www.monaconatureencyclopedia.com/euryops-virgineus/
https://powo.science.kew.org/taxon/urn:lsid:ipni.org:names:207507-1
https://www.nzpcn.org.nz/flora/species/euryops-virgineus/
---
---
.
References:
POWO  Catalogue of Life
https://www.monaconatureencyclopedia.com/euryops-virgineus/
https://www.nzpcn.org.nz/flora/species/euryops-virgineus/