Claytonia perfoliata Donn., Sp. Pl., ed. 4. 1: 1186 (1798) (syn: Limnia perfoliata (Donn ex Willd.) Haw. ; Montia perfoliata (Donn ex Willd.) Howell );
.
SW. Canada to Mexico: Arizona, British Columbia, California, Colorado, El Salvador, Guatemala, Idaho, Mexican Pacific Is., Mexico Central, Mexico Gulf, Mexico Northeast, Mexico Northwest, Mexico Southeast, Mexico Southwest, Montana, Nevada, New Mexico, Oregon, Utah, Washington, Wyoming; Introduced into: Argentina South, Arkansas, Belgium, Chile South, Cuba, Czechoslovakia, Denmark, Falkland Is., Finland, France, Germany, Great Britain, Italy, Netherlands, New Zealand North, New Zealand South, Norway, Portugal, Romania, Spain, Sweden, Ukraine as per POWO;
.
---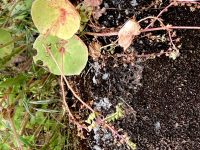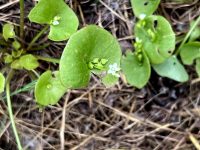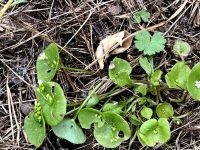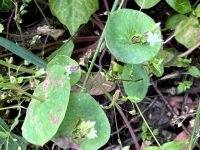 Claytonia perfoliata from California-GS29052023-3: 5 high res. images.
Claytonia perfoliata Willd.,  miner's lettuce, Indian lettuce, or winter purslane,
native American species of wet habitats,
Photographed from Mount Hermon, Santa Clara, California, May 28, 2023.
---
---
.
References:
POWO  Catalogue of Life