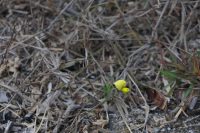 FOR ID :: Crotalaria sp. :: Shirgaon, Palghar :: Feb 26, 2023 · JUN23 DV383: 1 image.
Crotalaria sp. … FOR ID
Shirgaon, Palghar :: Feb 26, 2023 · 3:31 PM IST :: about 14 m – 24 m (46 ft – 79 ft) asl
---
Better to leave unidentified.
---
I fully agree.
---
Crotalaria shrirangiana K.H.Rokade, Dalavi, S.S.Gaikwad & N.B.Gaikwad ??
---
Thanks very much, …, for your thought.
My posted "lone" photo is quite challenging for ID; I could not take any close-up at that time.
Let us leave the ID of the posted plant to genus level.
---