Blumea flava DC., Prodr. 5: 439 (1836) (syn: Baccharis amplexicaulis Wall. ex DC. ; Blumea lecomtei Vaniot & H.Lév. ; Blumeopsis falcata (D.Don) Merr. ; Conyza falcata (D.Don) Buch.-Ham. ex Spreng. ; Conyza obliqua Buch.-Ham. ex DC. ; Erigeron falcatus D.Don ; Erigeron obovatus Spreng. ex DC. ; Laggera falcata (D.Don) Kuntze ; Senecio fasciculatus Wall. ex DC. );
.
Indian Subcontinent to S. China and Sumatera: Andaman Is., Assam, Bangladesh, Cambodia, China South-Central, China Southeast, East Himalaya, Hainan, India, Laos, Malaya, Myanmar, Nepal, Nicobar Is., Sumatera, Thailand, West Himalaya as per POWO;
.
Common name: Yellow Blumea Nepali: तोरीबुटी Toribhuti
.
---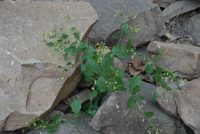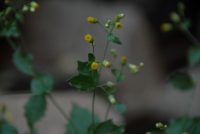 ID Please: 2 images.
ID please
This I found in Madhya Pradesh.
---
Blumea flava DC. ??
---
correct,
---
I am not sure as per
https://www.gbif.org/occurrence/gallery?country=IN&taxon_key=3099178
http://www.efloras.org/object_page.aspx?object_id=121085&flora_id=2
https://powo.science.kew.org/taxon/urn:lsid:ipni.org:names:185558-1
But appears close to images at
https://www.flowersofindia.net/catalog/slides/Yellow%20Blumea.html
---
---
.
References:
POWO  Catalogue of Life  GBIF (High resolution specimens) Flora of China  FOC illustration  Flora of peninsular India  Flowers of India