Curcuma rubescens Roxb., Asiat. Res. 11: 336 (1810) (syn: Curcuma erubescens Wall. ; Curcuma longiflora Salisb. ; Curcuma rubricaulis Link);
.
NE. India to Myanmar: Bangladesh, India, Myanmar as per POWO;
.
---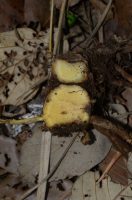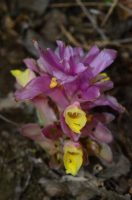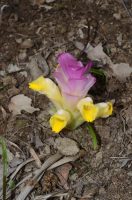 MS, June, 2023/10 Curcuma sp. for id: 4 images.
Location : Lurh tlang, Mizoram
Habit : Herb

Habitat : Wild
---
Curcuma angustifolia Roxb.??
---
Let leaves o come.
---
---
May be Curcuma latifolia?
---
Yes, Curcuma latifolia is very close to Curcuma zedoaria. The purple midrib of the leaf is missing in Sawmliana plant.
---
This looks like the plant whose identity is being debated in the attached paper. Compare with the illustration and images of Curcuma zedoaria  in the paper. In my opinion, it may be treated as Curcuma zedoaria, which is called White turmeric because of the whitish inside of the rhizome, and is found in NE India.
---
The flowers are distinctly protruding from the bracts. This feature doesn't agree with Curcuma latifolia and Curcuma zedoaria. In these two species, the flowers are shorter than the bracts. The only plant I could find in the NE region with this feature is Curcuma rubescens. There could be others which I am not aware of.
---
I have compared this one with the Roxburgh icon of C. rubescens and it matches.
---
---
.
References:
POWO  Catalogue of Life  GBIF (High resolution specimens) Flowers of India  India Biodiversity Portal  Flickr