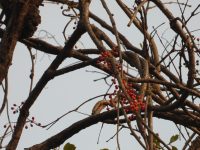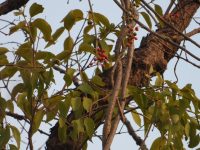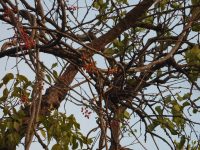 Climber for id from Sudhagad Wildlife Sanctuary, Raigad: 3 images.
Photographed this

climber near a water body

at Sudhagad

Wildlife Sanctuary,

Raigad, Maharashtra.

Looks like a Tinospora species.
Location- Sudhagad Sanctuary
, Raigad district
Habit- Climber

Please help in species confirmation.
---
Pachygone ovata (Poir.) Hook.fil. & Thomson ??
---
But doesn't it look like the fruits of  Tinospora species and leaves of another climber Dendrophthoe falcata ?
---
The stems and fruit look like a Tinospora sp. The leaves may belong to another plant.
---
stem and fruits belong to tinospora sps.as Radha sir said. without leaves its not possible to identify the sps
T. sinensis was attached for reference
---