Curcuma coriacea Mangaly & M.Sabu, Notes Roy. Bot. Gard. Edinburgh 45: 429 (1988 publ. 1989);
.
SW. India (Kerala, Tamil Nadu) as per POWO;
.
---
Rhizome very small, branching, yellowish-white inside. Leafy stem 30 to 40 cm high. Leaves 25 x 10 cm, elliptic, acuminate at either ends, densely tomentose on either surface; petiole to 3 cm long. Spike terminal, 12-13 x 3-4 cm; bracts 2.5 x 1.6 cm, ovate, obtuse, yellowish brown, pubescent. Flowers yellow; calyx tubular, hairy, deeply split on one side; corolla bright yellow, lobes unequal; lip 2 x 2 cm, 3-lobed; lobes rounded, deep yellow, ovary pubescent.
Flowering and fruiting: April-June
Southern Western Ghats
(Attributions: Dr. N Sasidharan (Dr. B P Pal Fellow), Kerala Forest Research Institute, Peechi as per India Biodiversity Portal)
.
---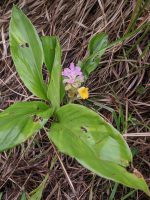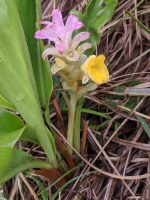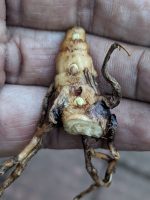 Curcuma species for identification: 4 high res. images.
Please help me identify this curcuma species.
Habitat: high altitude grassland
Location: Kakkadampoyil, Kerala
Rhizome: White inside, fragrant. 
Inflorescence: Both central and lateral. Small compared to the inflorescence of other species such as aeruginosa, haritha, and aurantiaca.
---
Curcuma coriacea
---
---
.
References:
POWO  Catalogue of Life  BSI Flora of India checklist  Flora of peninsular India India Biodiversity Portal