Mucuna bennettii F.Muell., Descr. Notes Papuan Pl. 1: 63 (1876) (syn: Mucuna elegans Merr. & L.M.Perry ; Mucuna miniata Merr. ; Stizolobium bennettii (F.Muell.) Kuntze);
.
Sulawesi to Vanuatu: Maluku, New Guinea, Solomon Is., Sulawesi, Vanuatu; Introduced into: Malaya as per POWO;
.
---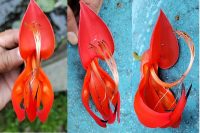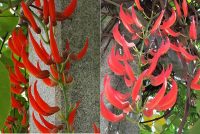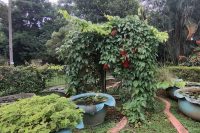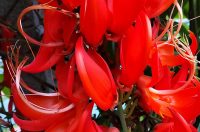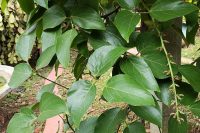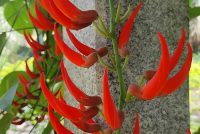 Mucuna bennettii: 6 images.
I did not find any page for Mucuna bennettii in efloraofindia. Hence sharing few photos of this creeper.
Date/Time- 6 AUG 2023
Location-Place, Altitude, GPS- Lalbagh, Bengaluru. 12°56'59.4″N 77°35'06.2″E
Habitat- Garden/ Urban/ Wild/ Type- Botanical Garden
Plant Habit-Tree/ Shrub/ Climber/ Herb- Climber
Height/Length- 2 meters, Supported on frame.
Leaves – Trifoliate leaves
Flower – Red, papilionaceous flower
Tiny buds were observed on 23 JUL 2023.
Fully developed buds were observed on 30 JUL 2023.
Fully open flowers were observed on 6 AUG 2023.
Other synonyms reported on internet – Mucuna benettii, Mucuna bennettii, Mucuna warburgii, Mucuna albertisii, Mucuna novoguineensis
Mucuna bennettii is native to Papua New Guinea.
Mucuna bennettii is commonly known as New-Guinea creeper or Scarlet Jade Vine.
It is named as ಕೆಂಪು ಹವಳದ ಬಳ್ಳಿ  (केंपु हवळदा बळ्ळि) in Kannada
---
Thanks a lot, …i, for the wonderful addition.
It matches with images at
https://www.inaturalist.org/taxa/427215-Mucuna-bennettii/browse_photos
https://www.gardensbythebay.com.sg/scarlet-jade-vine.html
https://en.wikipedia.org/wiki/Mucuna_bennettii
---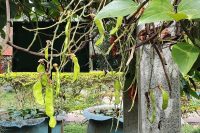 On 27 AUG 2023 the pods of 
Mucuna bennettii 
were observed
at Lalbagh.
Flowering of the creeper still continues.
Length of pods: Up to 16 cm. Thickness of pods: 8 mm. 
Image of the pods is attached with this message.
1 image.
---
---
.
References:
POWO  Catalogue of Life
https://www.inaturalist.org/taxa/427215-Mucuna-bennettii/browse_photos
https://www.gardensbythebay.com.sg/scarlet-jade-vine.html
https://en.wikipedia.org/wiki/Mucuna_bennettii