Toxicodendron wallichii (Hook. fil.) Kuntze, Revis. Gen. Pl. 1: 154 (1891) (syn: Rhus juglandifolia Wall. ex D.Don; Rhus wallichii Hook.f. );
.
Himalaya to S. Tibet and N. Thailand: East Himalaya, Nepal, Thailand, Tibet, Vietnam, West Himalaya as per POWO;
.
As per eFI thread:
Here's the simple key to distinguish –
R. wallichii – Panicles axillary or terminal panicle, much shorter than the leaves, rusty tomentose. Drupe globose, 5-7 mm diameter.
R. punjabensis – Panicles terminal, long 10 – 23 cm, densely tomentose. Drupe subglobose, compressed, 3 – 4 mm in diam., red & tomentose (waxy at maturity).
.
---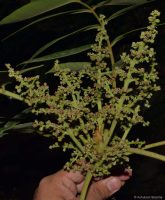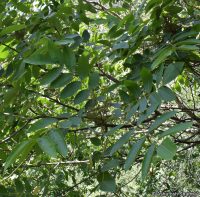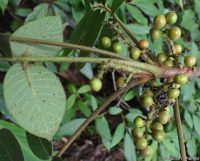 Toxicodendron wallichii (Hook.f.) Kuntze submission AS7 September 2023: 4 high res. images.
Here's an addition to our eFloraofIndia website.
Here's the simple key to distinguish –
---
,
References:
POWO  Catalogue of Life  GBIF (High resolution specimens) Annotated checklist of Flowering plants of Nepal  India Flora Online  India Biodiversity Portal  Useful Tropical Plants  trees and shrubs online  iNaturalist