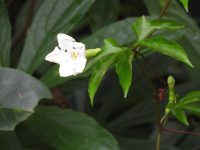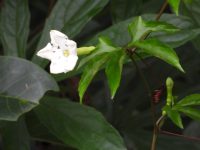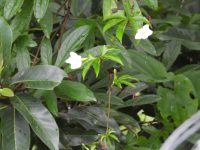 SK 3822 28 July 2023: 4 images.
Location: Taplejung, East Nepal 
Habit : Wild
Images sent by Sajan Subedi, a friend.
Leaves look like
Trichosanthes wallichiana 
(Ser.) Wight 
but flowers look different.
---
Yes, different. Could not find any match as per comparative images at
https://efloraofindia.com/2011/02/10/cucurbitaceae/
---
This looks a bit difficult!
Trichosanthes dunniana H.Lév. ??
---
Appears to be some other genus.
---
Any suggestions
---
Not getting any so far.
---
Any idea what is the flower color of Herpetospermum tonglense (C.B.Clarke) H.Schaef. & S.S.Renner?
---
I think looks different as per
https://www.gbif.org/occurrence/gallery?taxon_key=4940026
---
To me also looks like female flower of T. wallichiana
---
By the way, could you please send me the images of female flowers ? I could not
---