Calanthe mannii Hook.f., Fl. Brit. India 5: 850 (1890) (syn: Alismorkis mannii (Hook.f.) Kuntze; Calanthe brachychila Gagnep. ; Calanthe oblanceolata Ohwi & T.Koyama ; Calanthe pusilla Finet );
.
Himalaya to S. China, Japan (Kagoshima): Assam, China South-Central, China Southeast, East Himalaya, Japan, Myanmar, Nepal, Tibet, Vietnam, West Himalaya as per POWO;
.
Common name: Mann's Calanthe • Nepali: बाँदरको धोती Baandarko Dhotee
---
Plant 30-45cm, roots fasciculate thick and fibrous. Pseudobulbs short, cylinderical 1-2.5cm long. leaves 4 or 5, narrowly elliptic oblong to oblanceolate oblong acute to subacute petiolate 14-30*2-4cm, the lower 2 sheathing at base petiole 8-9cm. Infloresence terminal, laxly 10 to 20 flowered; peduncle pubescent sheathless, 20-28cm long; rachis pubescent 7-18cm long, floral bracts globrous, small lanceolate acute 2-4*0.5.1mm. flowers deflexed 0.5-1cm across pale green to dull brown, lip yellow pedicel and ovary pubescent clavate 5-9mm long. sepals similar ovate oblong acute pubscent externally 6-7*2-2.5mm. Petals ovate oblancoelate acute glabrous 5-6*1.6-2mm. Lip 3 lobed shortly spurred to semi adneate to column base 4-5*2-3mm, lateral lobes large, broadly ovate, truncate erect; mid lobe deflexed, subremiform, margins entire emarginate; 3-lamellate from base to apex expanding to semi lunate swelling tuberculate, spur pubescent, conical 1-2mm long, Column short stout 1-3mm long. fruit fusiform pendent.(Attributions: N. R. Pearce & P. J. Cribb. Orichds of Bhutan. Published by RGoB and RBGE. 2002 as per Bhutan Biodiversity Portal)
.
---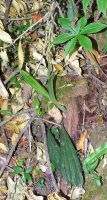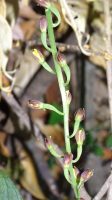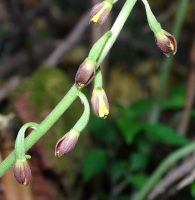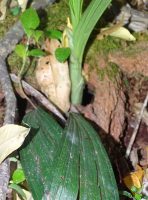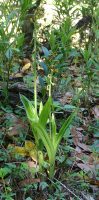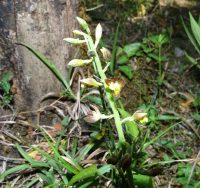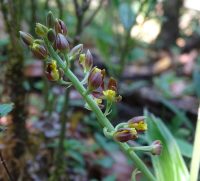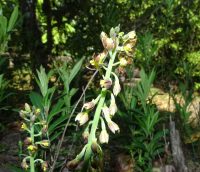 Calanthe mannii Hook.f.: 8 high res. images.
Location:  Suyada, Jajarkot, West Nepal 
Elevation 2200m.
Habit : Wild
---
Looks like Calanthe mannii.
---
---
.
References:
POWO  Catalogue of Life  Flora of China  FOC illustration  Annotated checklist of Flowering plants of Nepal  Flowers of India  India Biodiversity Portal  Bhutan Biodiversity Portal  pacific bulb society  IOSPE Photos