Curcuma montana Roxb., Pl. Coromandel 2: 28 (1800) ;
.
E. Himalaya to Assam: Assam, East Himalaya; Introduced: India as per POWO;
.
Common name: Mountain Turmeric • Assamese: Garunoa-halodhi • Malayalam: Kattumanja
.
---
Rhizome short, light yellow. Pseudostem to 30 cm high. Leaves 30 x 8 cm, elliptic, acute at either ends; petiole 6 cm long; sheath keeled, glabrous; ligule membranous, acute, glabrous. Spike terminal, 12 x 4 cm; bracts 3.5 x 1.5 cm, obovate, obtuse, purplish above, thinly pubescent. Flowers pinkish yellow; calyx tube 13 mm long, lobes truncate, glabrous; corolla tube 18 mm long, lobes unequal, larger lobes 2 x 0.8 cm, oblong, obtuse to shortly bifid at apex; lip 20 x 13 mm, obovate, deeply divided above, yellow; staminodes 1.3 x 0.7 cm, obovate, entire; anthers 5 mm long, spur divaricating, connective shortly producing; ovary pubescent.
Flowering and fruiting: September-October
Grasslands
India: Assam, Andhra Pradesh, Madhya Pradesh, Odisha, Uttar Pradesh; Throughout Tropics 
(Attributions: Dr. N Sasidharan (Dr. B P Pal Fellow), Kerala Forest Research Institute, Peechi as per India Biodiversity Portal)
.
---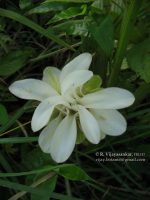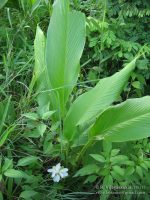 Flora of Manipur: Curcuma montana: 2 images.
Curcuma montanafrom Manipur.
Sterile bracts (coma) white (not flowered yet when i took photo).
---
.
---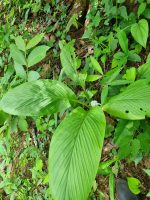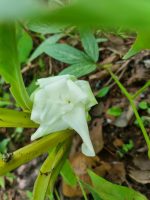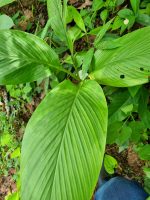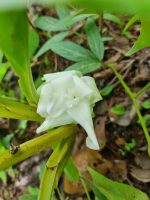 Regarding identification of the curcuma sp.: 5 high res. images.

---
Curcuma montana Roxb. ??
Where is it from? When was it shot ? What was the elevation ?
---
Sir this species collected from Mayurbhanj Odisha, Altitude above 3200ft Sir
---
C. montana???
---
---
.
References:
POWO  Catalogue of Life  GBIF (High resolution specimens) Flora of peninsular India Flowers of India  India Biodiversity Portal